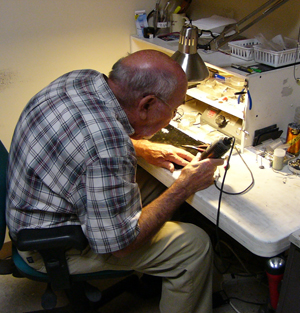 Our family appreciates the opportunity to serve you, and we know you will be pleased with the uniqueness and quality of our merchandise.

Dixie's was started in 1981 out of our passion for silver jewelry, but also as a way to travel and supplement our retirement.
What was started in one room and the garage of our home quickly grew into a successful silver charms wholesale business with over 1200 accounts across the country, six full time sales reps, and a permanent show room at the Dallas Apparel Mart.
Today all of our time and energy is spent on our retail store and online silver jewelry store.

The wholesale business was wonderful! It afforded us the knowledge to shop for the very best price and product.

Located in Arlington, TX (in the Shops at Gracie Lane) Dixie's Charms & More should be a must stop for all of you silver jewelry and sterling silver charms lovers anytime you are in Arlington.
Allow a couple hours though, and get acquainted with one of the nicest families in the silver jewelry business; yes, Dixie is a real person and here daily!
Celebrating 33 years in the fashion accessory and silver jewelry business......Customer Service...Quality Products...and Great Prices! It doesn't get any better than that.

Thank you so much for allowing us to serve you. It is possible to get personal service on the web, but if you're ever in the Dallas-Ft.Worth area, please stop by our silver jewelry store and say hello!
You can also contact us with any question about our silver jewelry line at Questions@dixiesonline.com or 817-649-1112.